Flu Season 2023/ Book Your Appointment
Please contact the surgery if you feel you are eligible for a FLU vaccination.
Flu is a highly infectious illness that spreads rapidly through the coughs and sneezes of people who are carrying the virus.
Flu symptoms can hit suddenly and severely.  They usually include fever, chills, headaches and aching muscles.  You can often get a cough and sore throat.  Because flu is caused by a virus and not bacteria, antibiotics won't treat it.
Anyone can get flu, but it can be more serious for certain people.  Therefore the NHS offers free vaccinations to all those 'At Risk' patients, the eligibility criteria can be found below: -
Children aged 2 to 3
Those aged 6 months to under 50 years in clinical risk groups
Pregnant women
Those aged 65 years and over
Those in long-stay residential care homes
Carers
Close contacts of immunocompromised individuals
Frontline health and social care staff employed by:

a registered residential care or nursing home
registered domiciliary care provider
a voluntary managed hospice provider
Vaccination is the best way of protecting yourself and those close to you against infection by preventing the spread of the virus.  
Further information on the flu virus and the benefits of receiving a vaccination are available on the NHS website: www.nhs.uk/conditions/vaccinations/flu-influenza-vaccine/
Does Age Affect The Risk Of Flu?
Yes. If you are aged 65 years or over or you are at higher risk.
Who Is At Risk?
If you are aged 65 years or over or if you are on regular inhaled steroids
If you have a chronic respiratory disease (including asthma)
If you have chronic heart disease
If you have chronic renal disease
If you are diabetic
If you have a weak immune system
If you live in a long-stay residential or nursing home
If you have a chronic liver disease
If you are a carer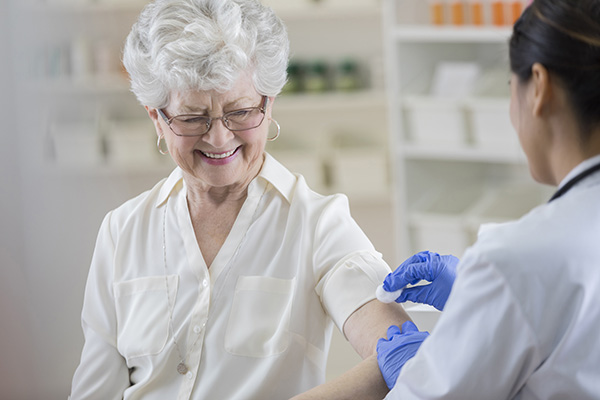 Do I Need To Be Protected Against Pneumococcal Infection?
Everybody aged 65 and over should now be immunised to help protect them against pneumococcal infection which can cause diseases such as pneumonia, septicaemia (blood poisoning) and meningitis. Please phone the surgery during September to make an appointment if the above applies to you.