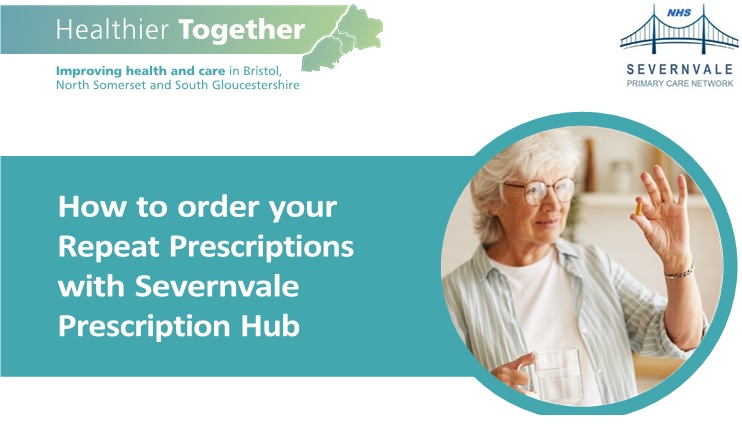 A single Prescription Hub is being launched for all 5 GP practices to improve prescription processes. The Hub will process ALL prescription requests for ALL 5 GP practices listed below within Severnvale Primary Care Network.
The Prescription Hub will have a dedicated team working from 8.30am-6.30pm Monday to Thursday and 8.30am-5.30pm Friday to process your prescription requests and deal with medication queries.
Telephone lines will be open between 10am-12.30pm & 2.30pm-5.30pm Monday to Friday for medication queries only.
Submit your request to the Prescription Hub (Rx Hub) as follows:
1. Online – 'Patient Access' (ask at GP reception if you wish to register)
2. Email (see details below)
Almondsbury: bnssg.almondsburyprescriptions@nhs.net
Pilning: bnssg.pilningprescriptions@nhs.net
Severn View: bnssg.severnviewprescriptions@nhs.net
St Mary Street: bnssg.stmarystreetprescriptions@nhs.net
Streamside: bnssg.streamsideprescriptions@nhs.net
3. Paper / by hand to your GP surgery
4.  Post to: Severnvale Prescription Hub,  c/o Almondsbury Surgery, Sundays Hill, Bristol, BS32 4DS
5. Community Pharmacy